Magnetic Stirrer, 2L (SH-2)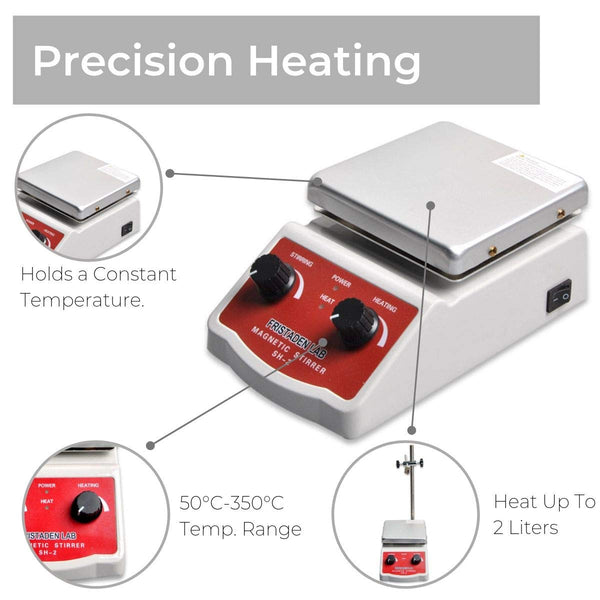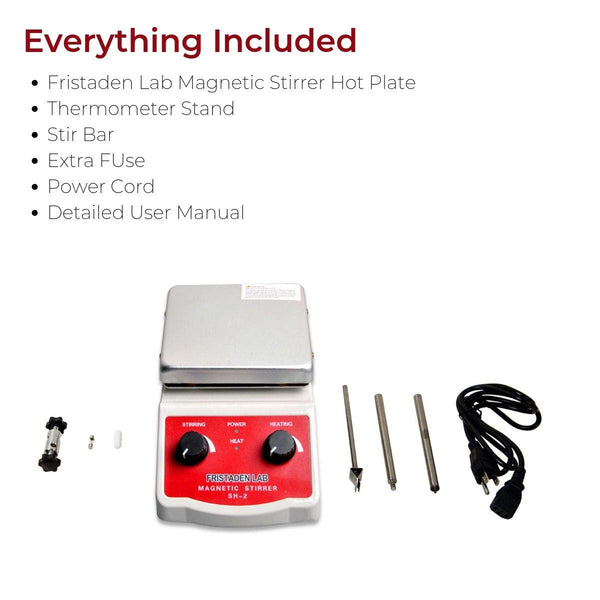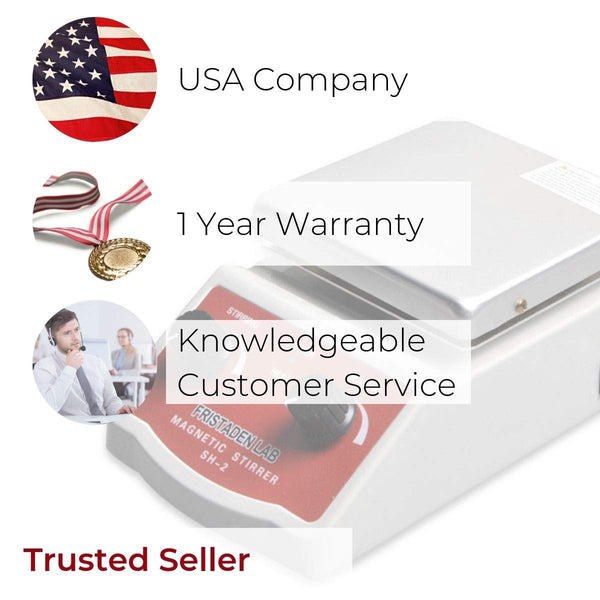 DESCRIPTION
ANALOG MAGNETIC HOTPLATE
The SH-2's heating and stirring can be easily adjusted and independently controlled by the quick-access dials, giving you greater control and more precision over your laboratory and at-home heating and stirring projects.
The machine is strong, durable and built to run for up to eight hours at a time (four hours on high).
POWERFUL HEATING
The Fristaden Lab SH-2 Magnetic Stirrer Hot Plate has a powerful, 180W heating element with 49-350℃ temperature range. The aluminum plate enables even heat disbursement and can hold up to 2000mL of liquid volume. The stirrer includes an adjustable temperature sensor bracket that easily mounts to the back of the machine.
FLEXIBLE STIRRING SPEED
The magnetic mixer has a 100-1600rpm speed range that's flexible and easy to control depending on your project's needs. The stirrer's strong magnetic field holds the stir bar firmly in place.
DUAL ANALOG CONTROLS
The hot plate mixer has dual analog controls and can independently control heating and stirring for more precise results. The stirring and heating elements can be used together or by themselves, giving you even more control over your projects. The machine can work continuously up to 4 hours on high and 8 hours on low and has a liquid heating time of 20-30 minutes.
LAB QUALITY
The Fristaden Lab magnetic stirrer hot plate mixer is built from lab quality materials. The design is strong and study and built to last year after year.
GUARANTEE
✓ Free domestic shipping
✓ Easy 30-day returns
✓ 1 Year Warranty
✓ Knowledgable customer support
SPECIFICATIONS
Model:
SH-2
Brand: Fristaden Lab  
Capacity: 2000mL 
Stirring Speed: 100-1600rpm
Max. Temperature: 49-350°C
Heating Power: 180W
Heating Time: 20-30min
Usage: 4 hours low speed, 8 hours high speed
Voltage: 110V, 50/60Hz
Hot Plate Dimensions: 120mm x 120mm
Unit Dimensions: 200mm x 120mm x 90mm
Unit Weight: 1.9kg
Warranty: 1 Year
PACKING LIST
Fristaden Lab SH-2 Magnetic Stirrer Hot Plate
Thermometer Support Stand
Stir Bar (25mm)
Extra Fuse
Power Cord
User Manual