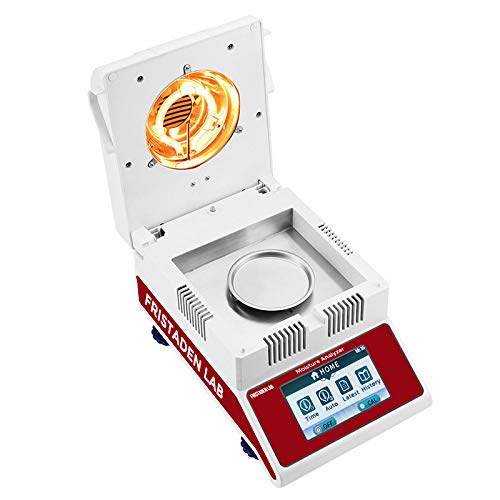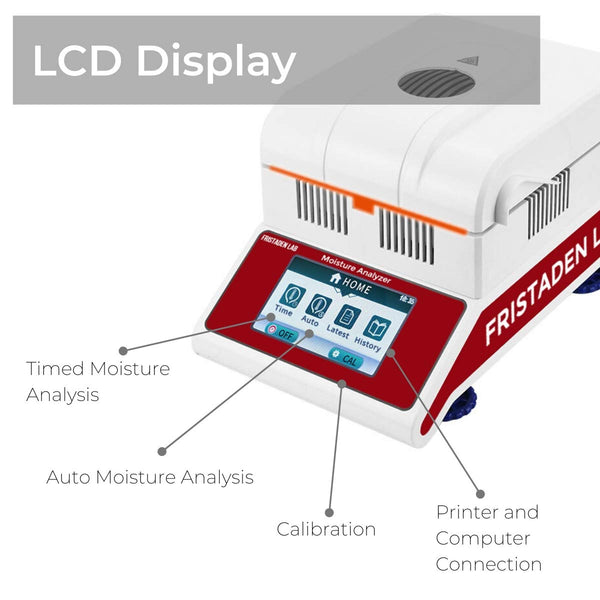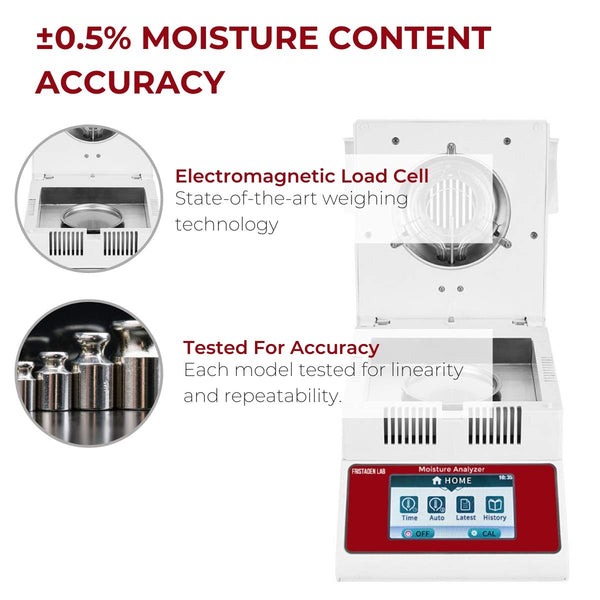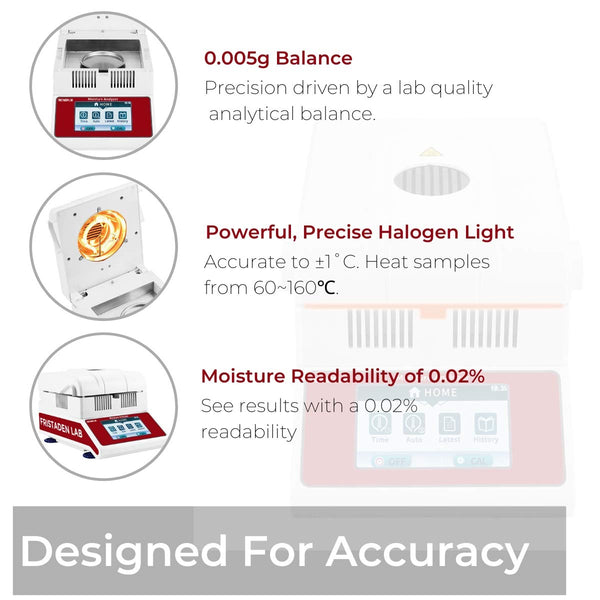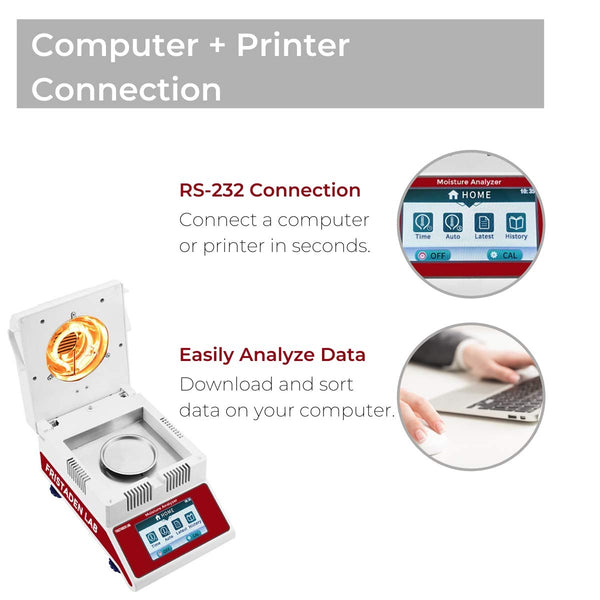 DESCRIPTION
Fristaden Lab Moisture Analyzer 

The Fristaden Lab moisture analyzer can quickly dry samples with a powerful and accurate (60~160℃) halogen lamp. Halogen lamps work faster than other methods often seen in moisture analyzers, potentially saving you time and money.
The scientific moisture analyzer can be used with plants, grain, minerals, chemicals, soil, wood, plastics and more. All samples can be measured on a full 0-100% moisture content range.
Results You can Trust
If you conduct moisture analysis for quality control or for lab work, a small inaccuracy can compromise your product or ruin your experiment. That's why the Fristaden Lab precision moisture analyzer is accurate to degree of magnitude higher than similar models (0.005g). Every moisture balance we sell is tested for accuracy and precision before sale.
Moisture Content Accurate to ±0.5%
We know how a 1-3% change in moisture content can make all the difference in your product or sample's quality. That's why this moisture analyzer has a moisture accuracy of ±0.5% (sample ≥5g). This is based on a moisture readability of 0.02% and a repeatability of 0.2%. These results are driven by a balance accurate up to 0.005g and a halogen light accurate to ±1˚C.
Many Features and Intuitive Controls
The digital moisture analyzer clearly displays results on a 5.5" LCD Touch Screen. You can easily switch between manual, timed and automatic tests. The machine has a 1-99 min timer with 1 sec intervals and automatic and timed stopped modes.
With the automatic test, the measuring device will alert you once the sample has lost its moisture. Heat samples weighing up to 100g from 60~160℃.
 Connect the Results to Your Computer or Printer
Connect the balance to your computer or printer using the built-in RS-232 connection port. This feature makes it easy for you to collect, organize and analyze your data.
Lab Quality 

The precision instrument is built from lab-quality materials including a high efficient halogen moisture analyzer; a sensitive high precision weighing balance; an aluminum alloy base; and an ABS surrounding body.
The Fristaden Lab Moisture Analyzer is a perfect addition to your lab or workspace. The scientific instrument is compact and can fit on most desks, benchtops or other workspaces.
Guarantee
✓ Free domestic shipping       
✓ Easy 30-day returns 
✓ 
1 Year Warranty 
✓ Knowledgable customer support
Specifications 
Brand: Fristaden Lab

Model: HCSFY105

Capacity: 100g

Readability: 0.005g

Moisture Readability: 0.02%

Repeatability: 0.2%

Temperature Increase Step: ±1˚C

Temperature Range: 60-160˚C

Display: 5.5" Touch Screen

Heating: High Efficiency Halogen Lamp

Heating Time: 1-99 min with 1 sec. intervals 

Time End Setting: Auto/ Timed Stop

Pan Size: 100mm

Unit Dimensions: 330mm x 480mm x 140mm

Packing List
Fristaden Lab Moisture Analyzer

Pan Remover

Pan Holder

10 x Sample Pan

100g Weight

USA Power Cord

User Manual