Vacuum Filtration Apparatus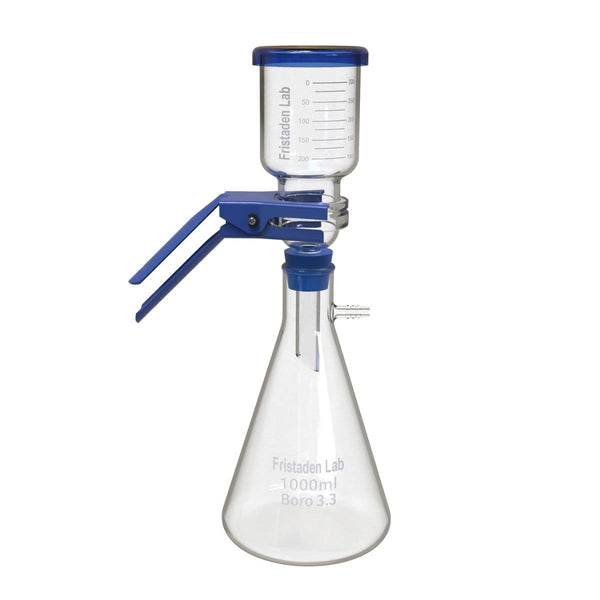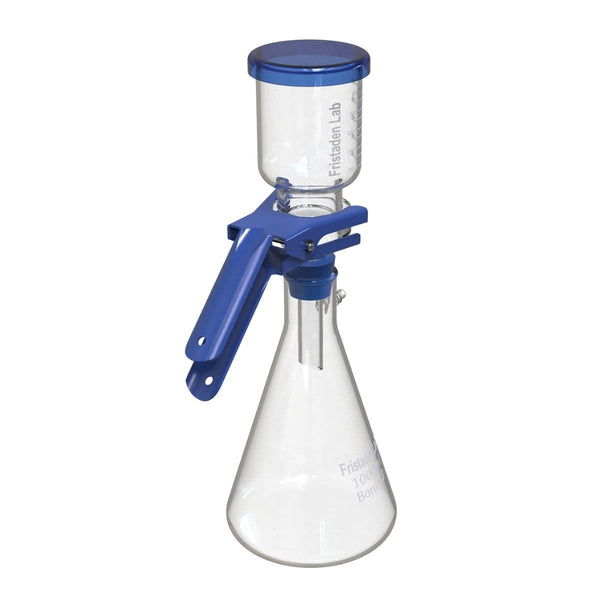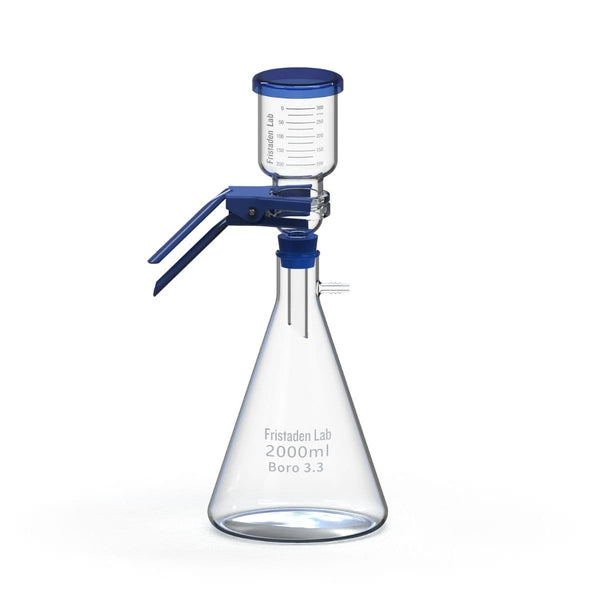 DESCRIPTION
Vacuum Filtration Apparatus 
The filtering flask can be used to separate components or impurities in your mixtures or solutions. The filtration apparatus is built to last with tough, heat resistant borosilicate glass designed to handle boiling liquids and strong vacuums. The glass is packaged tightly and thoroughly inspected to guarantee you receive an unblemished product.
Lab Quality, Many Uses
Use the filtering flask for chemistry experiments in the lab or school; to make e-juice, concentrate and oils; to filter essential oils and plant extracts; to make soap; and more!
Fast Filtering Action
The filtering kit can be used with or without a vacuum. For faster, higher volume jobs, just hook up a vacuum hose to the filtering flask and quickly pull your solution through the funnel. Vacuum filtration allows you to filter oil and water soluble solutions without damaging or losing heat-sensitive compounds in a distillation. This filtering flask comes with a high quality rubber stopper and aluminum clamp that allow for strong vacuums.
Easy To Use
The kit can be set up in minutes and is easy to disassemble, clean and store. The 300mL graduate funnel allows for easy measurement, unlike most Buchner funnel apparatuses. Best used with 50mm membrane filter paper.
GUARANTEE
✓ Free domestic shipping       
✓ Easy 30-day returns 
✓ 1 Year Warranty 
✓ Knowledgable customer support
SPECIFICATIONS
#500ML
Brand: American Fristaden Lab

Filter Flask: 500mL

Graduated Funnel: 300mL

Pore Size: 10μm

Filter Paper: 50mm

Unit Dimensions: 29cm x 29cm x 18cm
#1000ML
Brand: American Fristaden Lab

Filter Flask: 1000mL

Graduated Funnel: 300mL

Pore Size: 10μm

Filter Paper: 42-60mm
#2000ML
Brand: American Fristaden Lab

Filter Flask: 2000mL

Graduated Funnel: 300mL

Pore Size: 10μm

Filter Paper: 42-60mm
PACKING LIST
#500ML
1 x Fristaden Lab filter flask (500ml)

1 x Graduated funnel (300ml)

1 x Sturdy aluminum clamp
#1000ML
1 x Fristaden Lab filter flask (1000ml)

1 x Graduated funnel (300ml)

1 x Sturdy aluminum clamp
#2000ML
1 x Fristaden Lab filter flask (2000ml)

1 x Graduated funnel (300ml)

1 x Sturdy aluminum clamp